Chicken Style Alfredo Pasta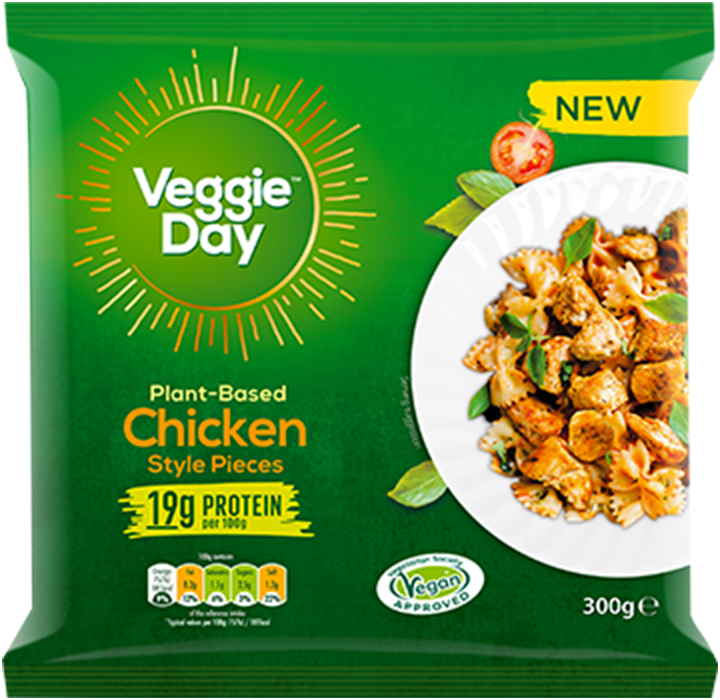 Preparation time
6 minutes


INGREDIENTS
For the cashew cream:
70g of cashews soaked in boiling water for 30 minutes
4 tbsp of plant milk like oat or soy
For the Chicken Style pasta:
2 shallots or 1 white onion – finely chopped
1 tbsp of olive oil
2 garlic cloves – minced
200g of chestnut mushrooms – sliced
150g of Veggie Day Chicken Style Pieces
2 tbsp of nutritional yeast
1 tsp of Dijon mustard
900ml of good quality veggie stock
230g of dried fusilli or penne pasta
A generous crack of black pepper Salt to taste
A sprinkle of chopped parsley to garnish (optional)
Start by making the cashew cream. Drain the cashews, add them to a blender together with the plant milk and blend until super smooth and creamy. Leave it to one side.
Add the oil to a large wide pan. Once hot add in the chopped onion. Saute the onion on a medium heat for 5 minutes until it starts to caramelise. Add in the crushed garlic and cook for another minute. Add in the sliced mushrooms and the Veggie Day Chicken Style Pieces and cook for a further 5-6 minutes, keep on stirring from time to time.
Add in the dried uncooked pasta, nutritional yeast, mustard and pour over the veggie stock. Mix everything together until the pasta is covered with the liquid. Keep cooking the pasta until most of the liquid has been absorbed. At that point the pasta should be cooked (about 10-12 minutes). Make sure to keep stirring to prevent the pasta sticking to the bottom. Turn the heat off and add in the cashew cream. Mix everything together. Check for seasoning and add the black pepper. Serve straight away with some chopped parsley sprinkled on top (optional).