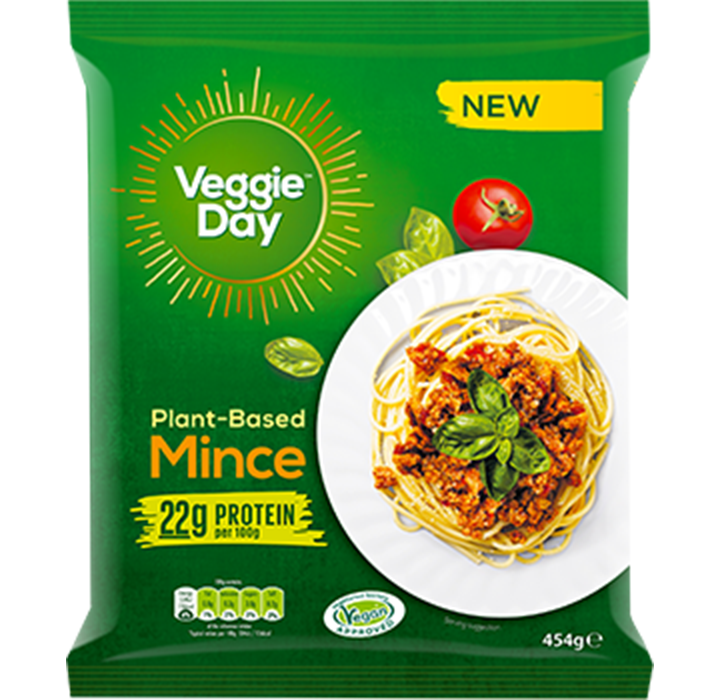 Preparation time
5 minutes


INGREDIENTS
For the Chilli:
1 onion – finely sliced
1 carrot – finely chopped
1 sweet pepper – chopped into small pieces
3 garlic cloves
1 fresh chilli – finely chopped
200g of cooked beans – a combination of black and kidney beans – you can also use a can of already mixed beans
200g of Veggie Day Mince
2 tbsp of tomato puree
1 can of chopped tomatoes
2 tbsp of maple syrup or coconut sugar
2 tsp of smoked paprika
1 tsp of coriander powder
1 tsp of cumin powder
Plenty of salt and pepper to taste
1 tbsp of oil for frying
For the "cheesy" sauce
100g of peeled and boiled white potatoes
50g of chopped and boiled carrots
2 tbsp of raw cashews soaked in water for at least 3 hours
3 tbsp of nutritional yeast
1 tsp of garlic powder
1 tsp of onion powder
4 tbsp of unsweetened almond or soy milk
2 tbsp of lemon juice
1/2 tsp of yellow mustard
Salt and pepper to taste
To serve: pasta of your choice
Start by making the chilli. Add the oil to the pan and add in the finely chopped onion and carrot. Fry for few minutes until the onion start to soften. Add in the crushed garlic and all the spices. Cook for another minute stirring continuously. Add in the chopped pepper, Veggie Day Mince, beans, tinned tomato and tomato puree. Mix everything well together. Add the maple syrup and give it another good mix. Put the lid on and cook the chilli on a low heat for 30 minutes. Add in the salt and pepper and cook for another 2-3 minutes.
While the chilli is cooking make the "cheesy" sauce: simply place all the ingredients for the cheese sauce into a blender and blend until super smooth and creamy. Adjust with salt and add a bit more almond milk if needed.
Cook the pasta according to the cooking instructions, drain it and mix it with the cheesy sauce straight away. Serve with a generous spoonful of chilli and enjoy!